Join our 'wacky' animals drawing competition.
Each month we give one Kookaburra Game away !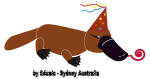 Let's party !

closing ceremony of the Atlanta Summer Olympics - Announcing Sydney

aboriginal flying kangaroo - Art on bedroom cupboard

Koala Bear from Sahil (6 yo) from Dubai in the United Arab Emirates
Sahil won a Kookaburra Game !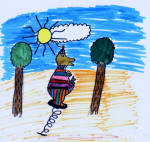 Eva (8) from France drew this great hopping kangaroo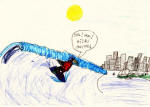 And brother Theo (10) drew this brilliant laughting Kookaburra surfing in front of the Opera House !
Eva and Theo won a Kookaburra Game !

The rules:
- Draw one of the 5 Kookaburra Game animals in any way or shape you want. (it must still somehow resemble the original animal though...)
- Your imagination is the limit - within the limits of good taste of course.
- Send us by snail mail or email your drawing (if by post it can only be returned if you enclose a stamped self-addressed envelope)
- The drawing/painting must be made by YOU - no pinching clip art from the Net please...
- Whether by email or post mail, you must tell us your first name, your age, the city and country you live in and your email address
- Any correspondence about the competition will happen via email, therefore, do not forget to give us your email address
- The monthly winner will be announced on this page, so bookmark it ! The Winner will be contacted by email, he/she then will need to email us a complete name and address so we can send one Kookaburra Game.
- For any draw, a minimum of 10 entries must be received. Should have we received less than 5 entries, the entries are postponed to the next month.
- There is NO AGE limit for the competition !
- People from all countries can participate in to the competition.
- The copyright of the drawing belongs to you, however we reserve the right to use the illustration/drawing for any Kookaburra Game promotion.
- When entering the competition, your drawing will be eligible for winning for a period of 3 months.
- Edualc Z Promotions P/L reserves the right to display an entry or not without explanation.
*****