Marti's Canowindra Balloon Fiesta

For Easter the Kookaburra Game went bush ! In order to see our favourite hot air balloon in the air again, we join the
Hot Air Balloon Festival in Canowindra in country NSW. That is one of the largest hot air balloon gathering in Australia.

The Kookaburra Balloon has been given to the city of Canowindra by the late Mr. Frank Hackett-Jones with the mission to
carry on the hot air ballon 'Fiesta' in remembrance of his mother Marti.
So every year since 1995 dozen of balloon pilots and fans drive to Canowindra near Orange to enjoy the weekend of music, entertainment, ballon flights, dance and good wine.
On Saturday evening the 'dance of the balloons', unique to Canowindra was simply great: The balloons line up and light up in rhythm with the music.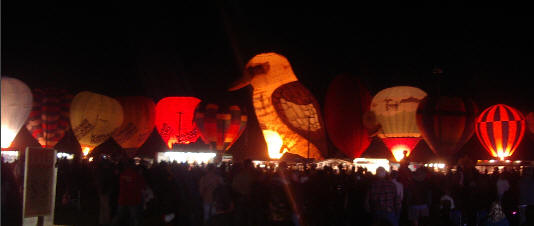 Photo: EdualcZ05
The Kookaburra joined them and held a stall out for all the people to buy our game. And they did buy it indeed !
One Grand-Ma bought one on Saturday and came back on Sunday and bought three more ! She thought se had to excuse herself telling us: "I played it last night and I thought it was great so now I want to give one to all my grand-children"... But from our point of view, she needed no excuse for that :-)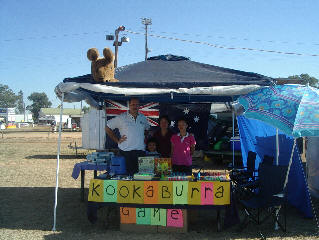 Another one bought two when we explain the Junior rules, she was working in a childcare centre and she loved the look of the animals. And a another Grand-Ma told us "my grand children are much into computer games but I want them to discover something else, something real !"
At the end, we sold many dozen of games, all of it while enjoying the party ! had a great time !

Details of the Kookaburra Balloon. It was painted and cut in England, shipped to Australia and assembled.
Il doit avoir chaud au c...
butt on fire ..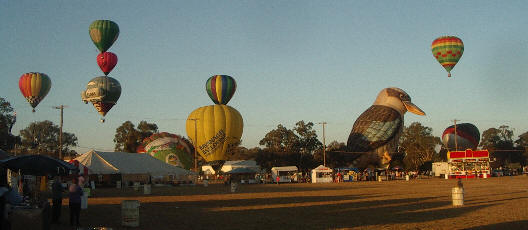 for more details, go to http://www.martisfiesta.com.au/